Another "Balik Penang" trip for my family this holiday... and this time we stayed in the new Eastin Hotel in Bayan Lepas Penang... Very near to QueensBay Mall... In fact its just 3 mins walk...
Its another business class hotel that is highly advertised in papers, magazines etc... U can tell that too after u notice numerous of signs and billboards pointing ur way to the hotels... Very good publicity i'll say since its still very new and they already got their rooms all filled up this holiday...
Eastin is a very beautiful building... I'll say its one of the best hotel in Penang in design exteriorly and interiorly... Modern urban designing with a sense of nature... Hmmm... (G Hotel still has the best design)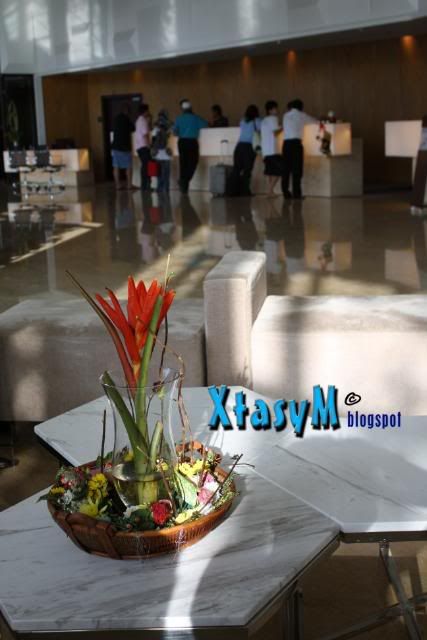 At the lobby, there's a small lounge beside... Very small i'll say... Nothing special there... And on the other corner is the restaurant that serves buffet breakfast, lunch and dinner... Swee Brasserie... I got to know from Michelle's fren that the chef are sent overseas (France if not mistaken) to learn all the food specialty... No reviews on the food since i did not dine there... Who wanna eat in that restaurant while in Penang? LOL... Local hawker stalls is so so much more tempting xD
Here's the Not-So-Good part... Had quite a bad experience with the service there... Staff were not well-trained and they are all totally BLUR =.= mayb its still new...
We called for reservation few weeks b4 the trip... The receptionist said reservation must be made to the sales department... but we tried to called a few times and for a few days... Its always engaged... I doubt that they have such good business O.o Then we manage to get the receptionist to reserve for us (as wat we're told she will inform the sales department)... When we reached there, there's no room for us... Since we got her name, we asked to girl out to solve the problem... And she said she inform the sales department... and its the sales department fault... After unsuccessful dealing with the sales department officer, we request to speak to the sales manager... One funny question he ask us: "we have 5 managers, which one u wanna speak to?" LOL... really LOLed... How i know which manager i wanna speak to... Just call a relevant manager out la =.=
We got our room... Instead of the room we reserved, there's only 1 seaview room available (suppose its at rm198++ but we manage to have it for the price of rm168++ as the room we reserved)... Wow... Seaview... That's the seaview we had...
I wondered how that small piece of sea cost another rm30++ O.o... Damn not worth it... I can see QueensBay Mall, Pulau Jerejak and the OXO cafe from my room :)
For the rooms... Its
very
very
very
very
small... They advertised they use LCD tv in every room... And now i know why they use LCD tv... Coz i cant even find a place to put the conventional tv... O.o See for urself...
In conclusion... Its a very beautiful hotel, near to shopping mall but not so value for money and not really that comfortable... I think their service will improve after sometime but meanwhile their staffs are still very blur... LOL... There's still plenty of better hotels out there :P