This is something that u wont see much in the big city of KL... There's always a huge assemblage to celebrate the
Nine Emperor Gods Festival
in Penang... Carnival-like atmosphere with procession to welcome Them...
Some introduction to Nine Emperor Gods... My mum used to told me that They were pirates of the sea and later became good, thus ppl worship Them... just found out from
wikipedia
that this isnt true... In Taoism, They are Prince to the Father Emperor Zhou Yu
Dou Fu Yuan Jun
(斗父周御國王天尊) and Mother
Dou Mu Yuan Jun
(斗母元君)... Actually i know nothing bout Taoism so dont ask me =.=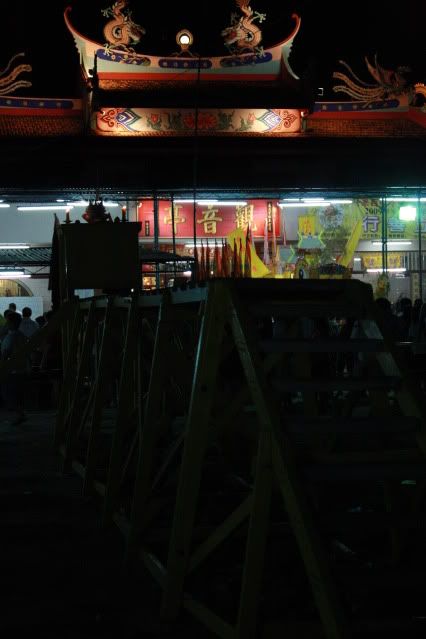 I was in Penang on time to witness the ceremony after all these long years in Klang... From my buddism point of view, the Nine Emporor Gods must hav very very good karma... Their 9 days festival give millions of people the opportunity to go vegetarian... Imagine how many animals are spared during this festival...
Surprisingly, many housewives took this opportunity to start their small vegetarian food stall... and they are just so delicious... You just cant find such crowd and vegetarian food on ordinary days...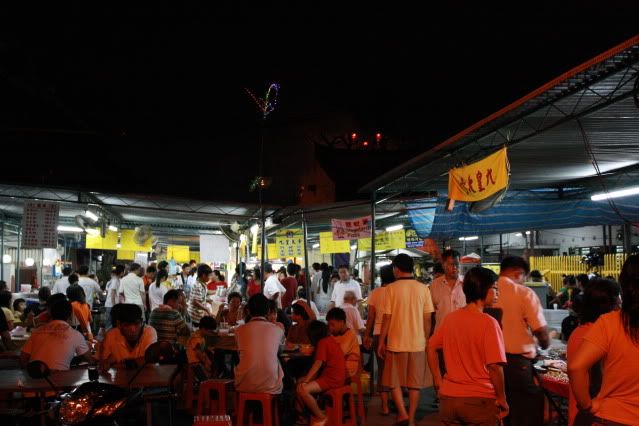 They are believed to arrive through the waterways, especially the sea... thus, during the last day, there will be also a procession to escort Them back into Their sea... With nicely decorated ships... Paper ships...
Of course we have the traditional chinese opera... My mum's favourite since she was a child... She was so excited to saw there's opera going on that night... LOL... Just like a little girl saw her favourite lollipop...
Notice something? Now only i know the so called TRADITIONAL opera too now has a high tech subtitles... You wont get lost not knowing wat they're singing anymore... The show is in Teochew dialect which i also dont undertand.. hehe
Check out this video, its the video of the Nine Gods playing with the hot oil on the 3rd day of the festival...
I still got a lot to share actually... but my stupid camera suddenly went out of batt...
Arrgghhh~
Anyway, Oct is a good month to visit Penang... Where all the cultures and heritage comes alive...
More photos at
"Rejuvenescence" - Memento Photoblog
Interesting articles on Nine Emperor Gods Festival celebration in Butterworth Penang, check it out:
Nine Emperor Gods Festival
Nine Emperor Gods
Wikipedia: Nine Emperor Gods