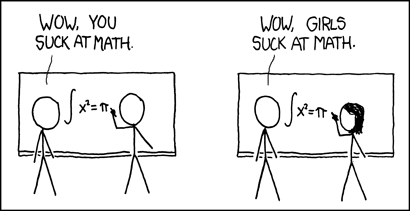 LoL... Ever notice there's always gender discrimination everywhere? Even myself too... had some of it :P
Has there ever been a time u said:
"Hey... its a female driver... no wonder the driving sucks!"
"Neh... Somehow girls cant lead an organisation well... Too emotional..."
or
"Arrghh... wat tat girl is doing? Come on... Just let me handle it!"
Everyone of those sounds familiar rite? All men tend to hav the stereotype on girls cant do any "big" stuff... You would say tat:"Really... they cant do any!" From wat i observed, female just do things the different way from men... And everyone will thinks tat their way is the best... Tat's where men will start complaining bout the way women handle things :)
Frankly... somehow women are not so business minded but people-oriented... Tat's why businessman are still businessMAN... XD... BUT... women are now getting more superior than their husband =.=
All those who have sons now, my sympathy.
Those who have daughters, my congratulations. ^^